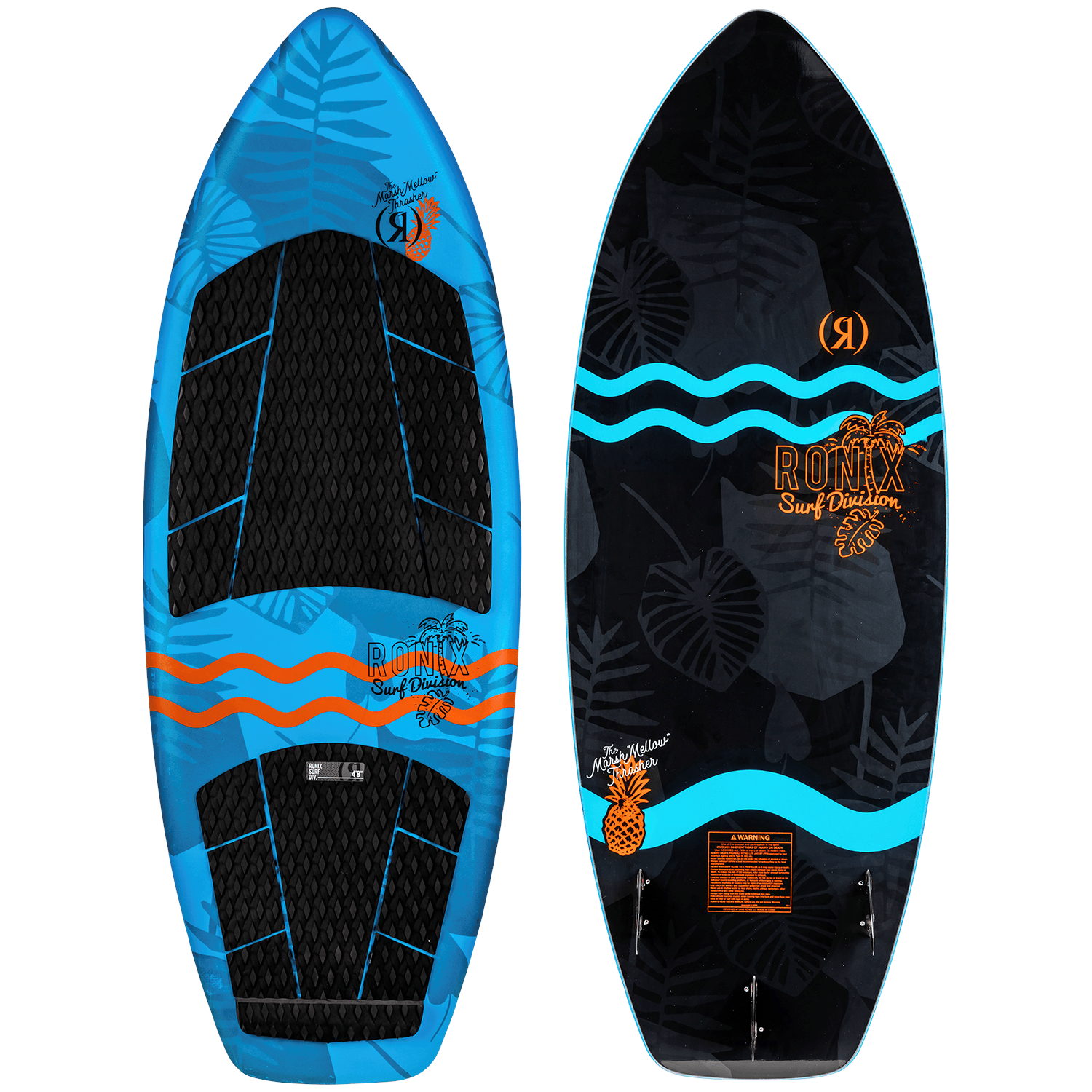 Ronix Marsh 'Mellow' Thrasher Wakesurf Board 2021
Ronix Wakesurf Board Size Chart | Surf Style
| | | |
| --- | --- | --- |
| Wakesurf Board | Board Length (Ft/In) | Suggest Max Rider Weight (lbs) |
| Flyweight Atlantik | 4'5" | 185 |
| Flyweight Atlantik | 4'7" | 160+ |
| Flyweight Atlantik | 4'9" | 170+ |
| Koal Classic Longboard | 4'10" | 125+ |
| Koal Classic Longboard | 5'4" | 150+ |
| Koal Classic Fish | 4'6" | 175 |
| Koal Classic Fish | 5'0" | 205 |
| Koal Classic Fish | 5'6" | 155+ |
| Women's Koal Classic Fish | 4'5" | 170 |
| Koal Surface Crossover | 4'5" | 205 |
| Koal Surface Crossover | 4'11" | 160+ |
| Marshmellow Thrasher | 4'8" | 175 |
| Marshmellow Thrasher | 5'2" | 160+ |
| Volcom Conductor | 4'3" | 165 |
| Volcom Conductor | 4'7" | 185 |
| Volcom Conductor | 5'0" | 160+ |
| Kids Atlantik | 4'3" | 125 |
| Super Sonic Space Odyssey Boy's Fish | 3'9" | 90 |
| Super Sonic Space Odyssey Girl's Fish | 3'9" | 90 |
| Super Sonic Space Odyssey Kids Powertail | 3'9" | 100 |
Pickup currently unavailable at Springville, UT
Ronix Marsh 'Mellow' Thrasher Wakesurf Board 2021
4'8"
Springville, UT
Pickup currently unavailable
1015 N 2000 W
Springville UT 84663
United States
+13852130452
The durability of a soft-top meets the performance of a thruster. The Ronix Marsh "Mellow" Thrasher Wakesurf Board has an effective edge and carries copious amounts of speed down the line. Perfect for the surfer on a budget or simply looking to expand the boat quiver to meet everyone's needs.