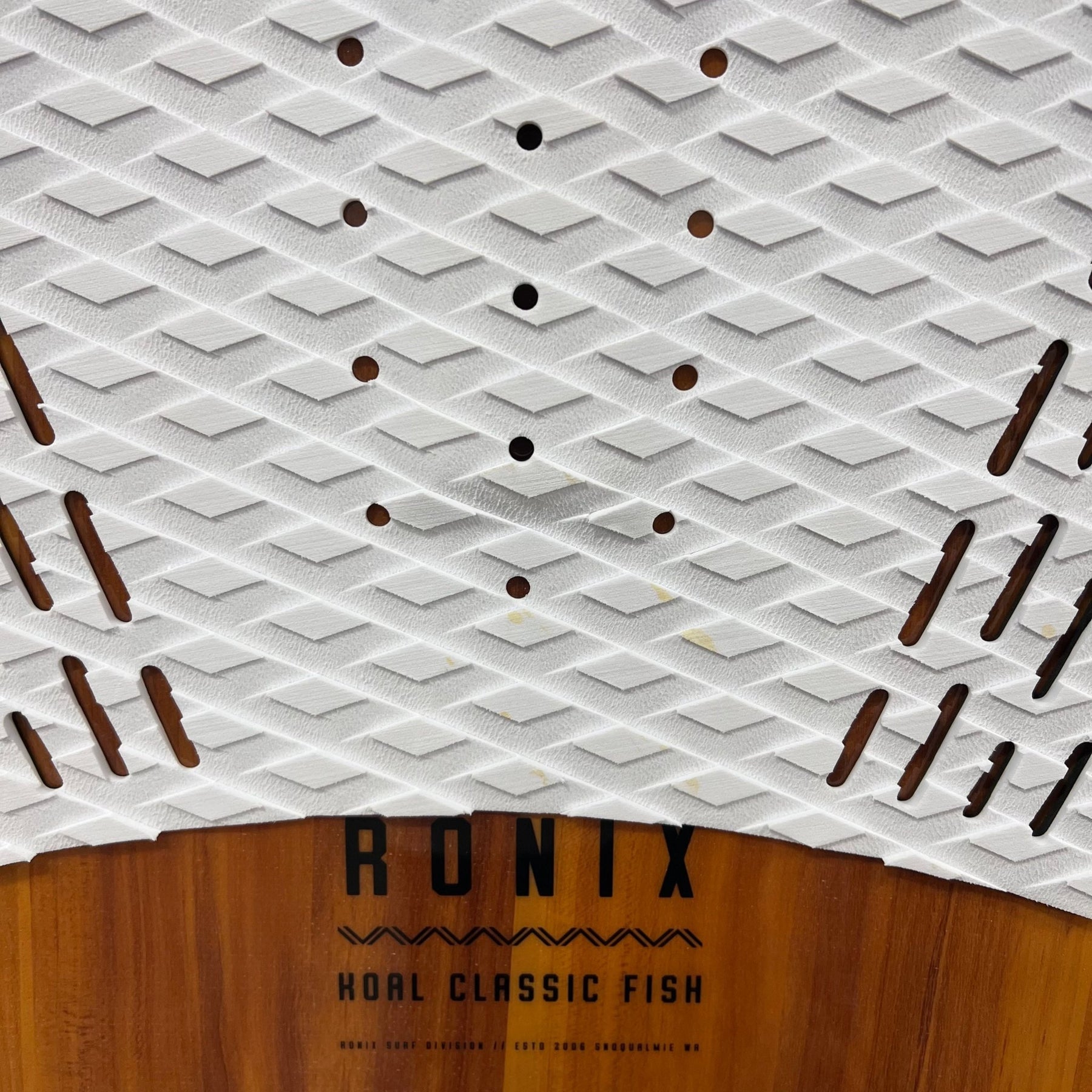 Ronix Koal Classic Fish Wakesurf Board 2022 BLEM
Ronix Wakesurf Board Size Chart | Surf Style
| | | |
| --- | --- | --- |
| Wakesurf Board | Board Length (Ft/In) | Suggest Max Rider Weight (lbs) |
| Flyweight Atlantik | 4'5" | 185 |
| Flyweight Atlantik | 4'7" | 160+ |
| Flyweight Atlantik | 4'9" | 170+ |
| Koal Classic Longboard | 4'10" | 125+ |
| Koal Classic Longboard | 5'4" | 150+ |
| Koal Classic Fish | 4'6" | 175 |
| Koal Classic Fish | 5'0" | 205 |
| Koal Classic Fish | 5'6" | 155+ |
| Women's Koal Classic Fish | 4'5" | 170 |
| Koal Surface Crossover | 4'5" | 205 |
| Koal Surface Crossover | 4'11" | 160+ |
| Marshmellow Thrasher | 4'8" | 175 |
| Marshmellow Thrasher | 5'2" | 160+ |
| Volcom Conductor | 4'3" | 165 |
| Volcom Conductor | 4'7" | 185 |
| Volcom Conductor | 5'0" | 160+ |
| Kids Atlantik | 4'3" | 125 |
| Super Sonic Space Odyssey Boy's Fish | 3'9" | 90 |
| Super Sonic Space Odyssey Girl's Fish | 3'9" | 90 |
| Super Sonic Space Odyssey Kids Powertail | 3'9" | 100 |
Pickup currently unavailable at Springville
Ronix Koal Classic Fish Wakesurf Board 2022 BLEM
4.6
Springville
Pickup currently unavailable
1015 N 2000 W
Springville UT 84663
United States
+13852130452
Koal Classic Fish
Demo products have been used or displayed in the BoardCo shop and do not come with any warranty coverage. Demo and floor model products are final sales. There are no returns, refunds, or exchanges on any demo or floor model products.
-Our longest running high-end surfer is a perfect overall fun shape that anyone can enjoy. 
-The Fish can be loose and flowy breaking free on the top of the lip, or extra reactive with the bottom turn, or just a nice mellow ride. 
-This versatile board can do it all, from toes-on-the-nose stability to frontside air performance.
-A ride for all styles and abilities.
Description: Board has several cosmetic scrapes, and one ding on the side. Does not affect performance of Board.