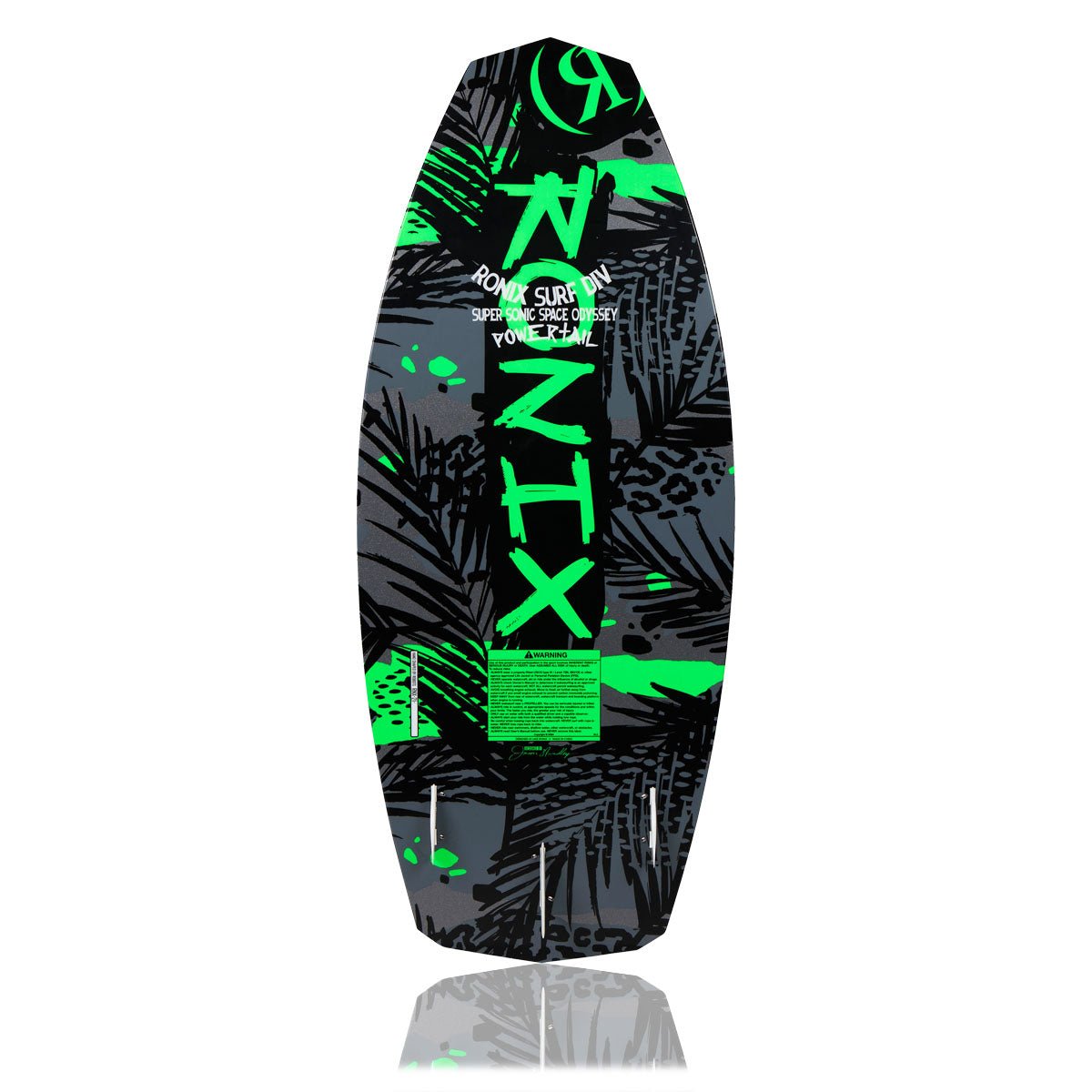 Ronix Kid's Super Sonic Space Odyssey Powertail Wakesurf Board 2024
In stock
Ronix Wakesurf Board Size Chart | Surf Style
| | | |
| --- | --- | --- |
| Wakesurf Board | Board Length (Ft/In) | Suggest Max Rider Weight (lbs) |
| Flyweight Atlantik | 4'5" | 185 |
| Flyweight Atlantik | 4'7" | 160+ |
| Flyweight Atlantik | 4'9" | 170+ |
| Koal Classic Longboard | 4'10" | 125+ |
| Koal Classic Longboard | 5'4" | 150+ |
| Koal Classic Fish | 4'6" | 175 |
| Koal Classic Fish | 5'0" | 205 |
| Koal Classic Fish | 5'6" | 155+ |
| Women's Koal Classic Fish | 4'5" | 170 |
| Koal Surface Crossover | 4'5" | 205 |
| Koal Surface Crossover | 4'11" | 160+ |
| Marshmellow Thrasher | 4'8" | 175 |
| Marshmellow Thrasher | 5'2" | 160+ |
| Volcom Conductor | 4'3" | 165 |
| Volcom Conductor | 4'7" | 185 |
| Volcom Conductor | 5'0" | 160+ |
| Kids Atlantik | 4'3" | 125 |
| Super Sonic Space Odyssey Boy's Fish | 3'9" | 90 |
| Super Sonic Space Odyssey Girl's Fish | 3'9" | 90 |
| Super Sonic Space Odyssey Kids Powertail | 3'9" | 100 |
Pickup currently unavailable at Springville
Ronix Kid's Super Sonic Space Odyssey Powertail Wakesurf Board 2024
3.9
Springville
Pickup currently unavailable
1015 N 2000 W
Springville UT 84663
United States
+13852130452
Discover the Adventure with the Ronix Super Sonic Space Odyssey Powertail Wakesurf Board
Best for: All Levels of Young Surfers – Whether they are just starting out or already catching air, this board is designed to support young surfers at every stage of their learning journey.
Powertail Advantage: The Powertail design offers an unprecedented surface area in the tail, allowing for bigger airs and a fantastic performance even on smaller wake sizes.
Versatile Performance: Combines the stability of a Longboard with the bottom turn drive of a Thruster, offering a versatile board that encourages kids to explore different surfing styles.
Performance Award Sticker Pack: Comes with a sticker pack to reward young surfers as they master new tricks, fostering a sense of achievement and encouraging continuous learning.
Parents, get ready to watch your child conquer the waves with the Ronix Super Sonic Space Odyssey Powertail Wakesurf Board. Designed to offer a versatile and fun surfing experience, this board is the perfect companion for young surfers at all levels of expertise.
The Powertail design is the standout feature of this board, offering an added drive that makes it a joy to surf even on small wakes. The extensive surface area in the tail allows for bigger airs off the top deck, promising an exhilarating surfing experience for your child.
Constructed similarly to our best-selling wakeboards, this board promises durability and a strong connection to the water, making it less prone to dings and ensuring a long-lasting performance. The thick construction and full rail offer stability and ease of use, making it a great choice for deep water starts and a smooth ride on the waves.
Encourage your child to master new tricks with the performance award sticker pack, a fun way to track their progress and celebrate their achievements. It's not just a board; it's a pathway to adventure, learning, and endless fun on the water.
Technical Specifications
Riding Level: All Levels - Suitable for young surfers at every stage, supporting them as they learn and grow.
Construction: Super Sonic Space Odyssey - Durable and less prone to dings, offering a strong connection to the water for a safe and enjoyable ride.
Thickness: Thick - Ensuring stability and a smooth ride, encouraging young surfers to confidently take on the waves.
Rail: Full - Provides a stable ride, helping young surfers maintain balance and control during their surfing adventures.
Fins: Bottom Mount Fin Attachment with tool included, featuring two 1.5" Alfred symmetrical fins and one 2.3" Alfred symmetrical fin, designed for a secure and controlled surfing experience.
| | |
| --- | --- |
| RIDING LEVEL | ENTRY LEVEL / INTERMEDIATE |
| FINS | BOTTOM MOUNT FINS (TOOL INCLUDED) - LEFT/RIGHT: 1.5" - CENTER: 2.3" |
| CONSTRUCTION | SUPER SONIC - Less prone to dings, and more connection to the water |