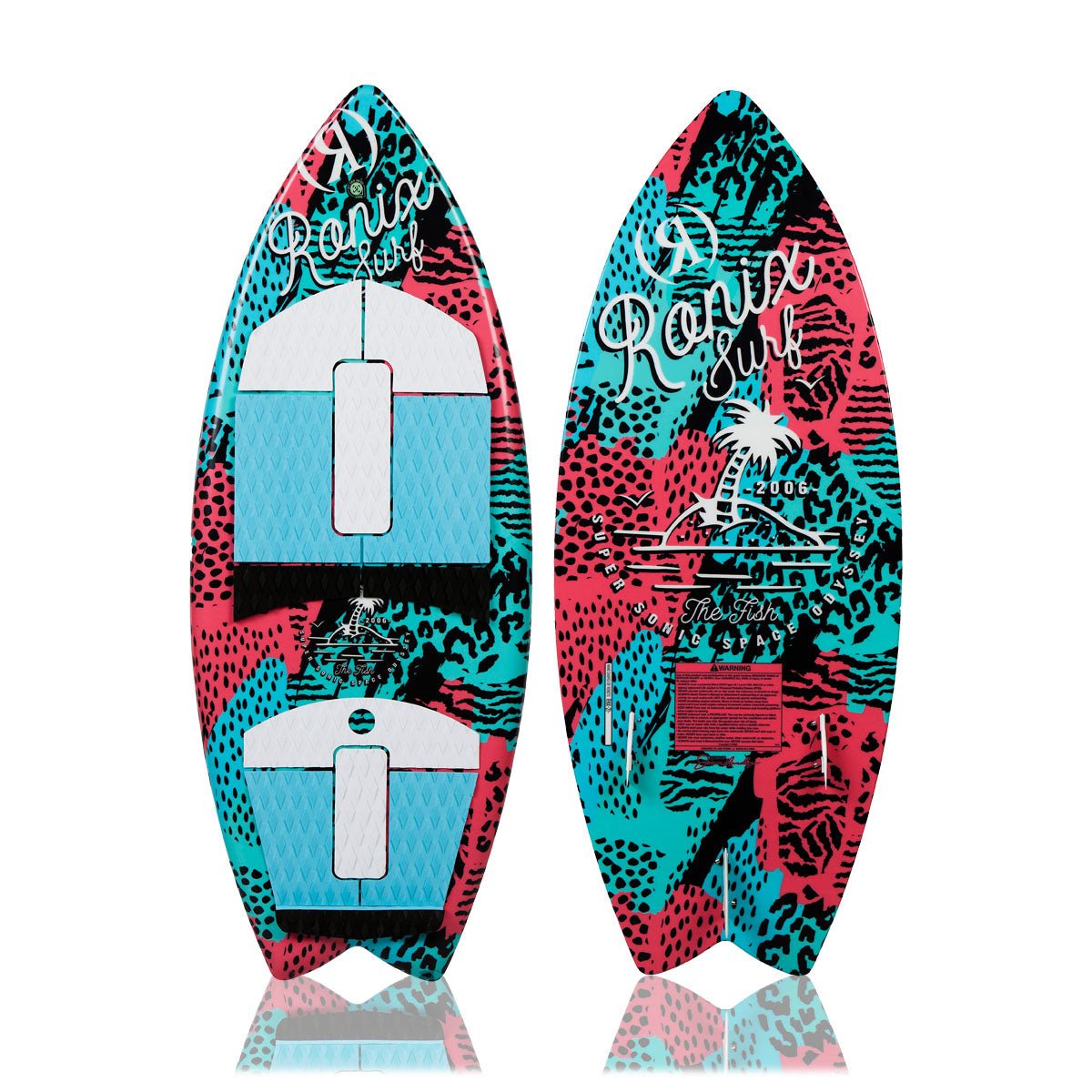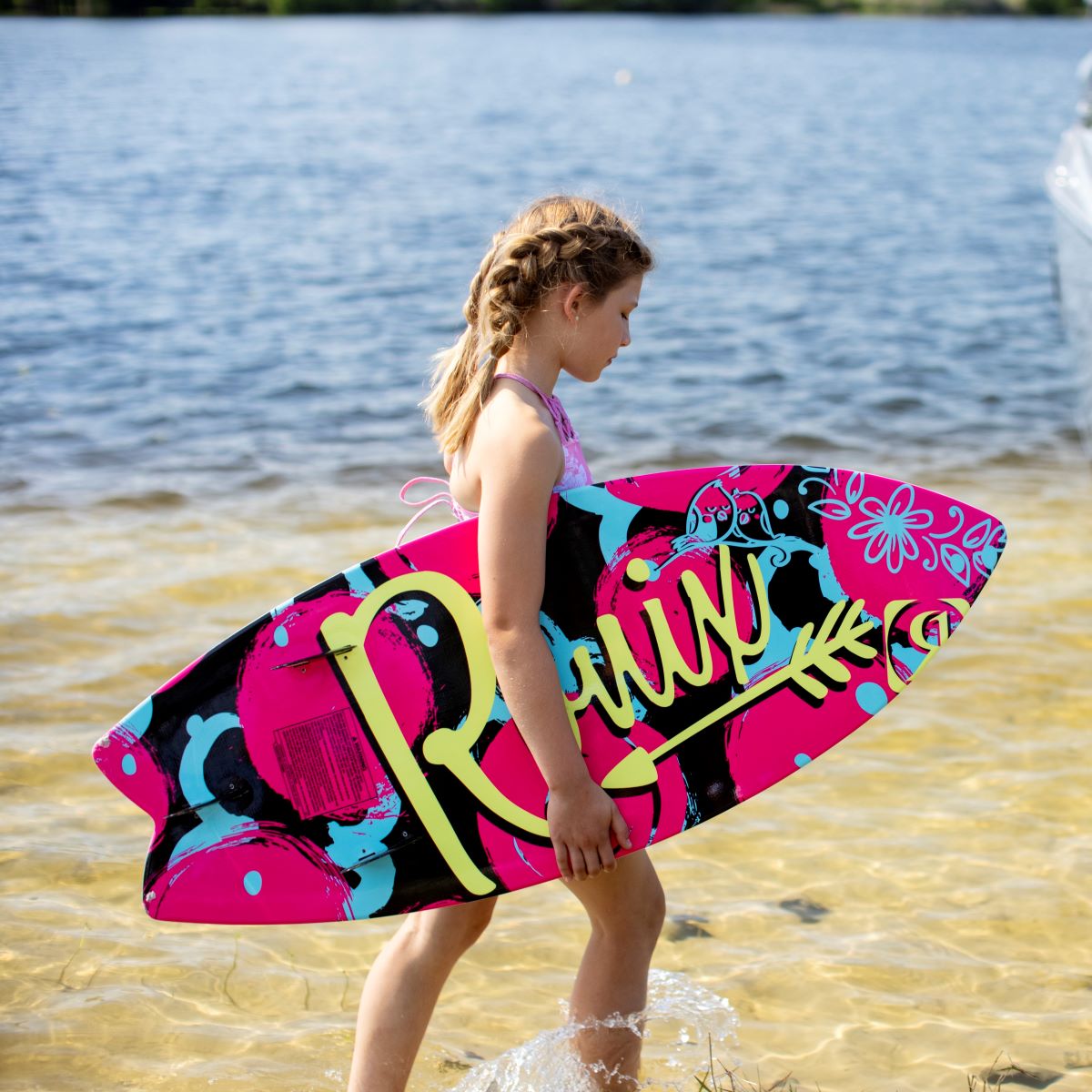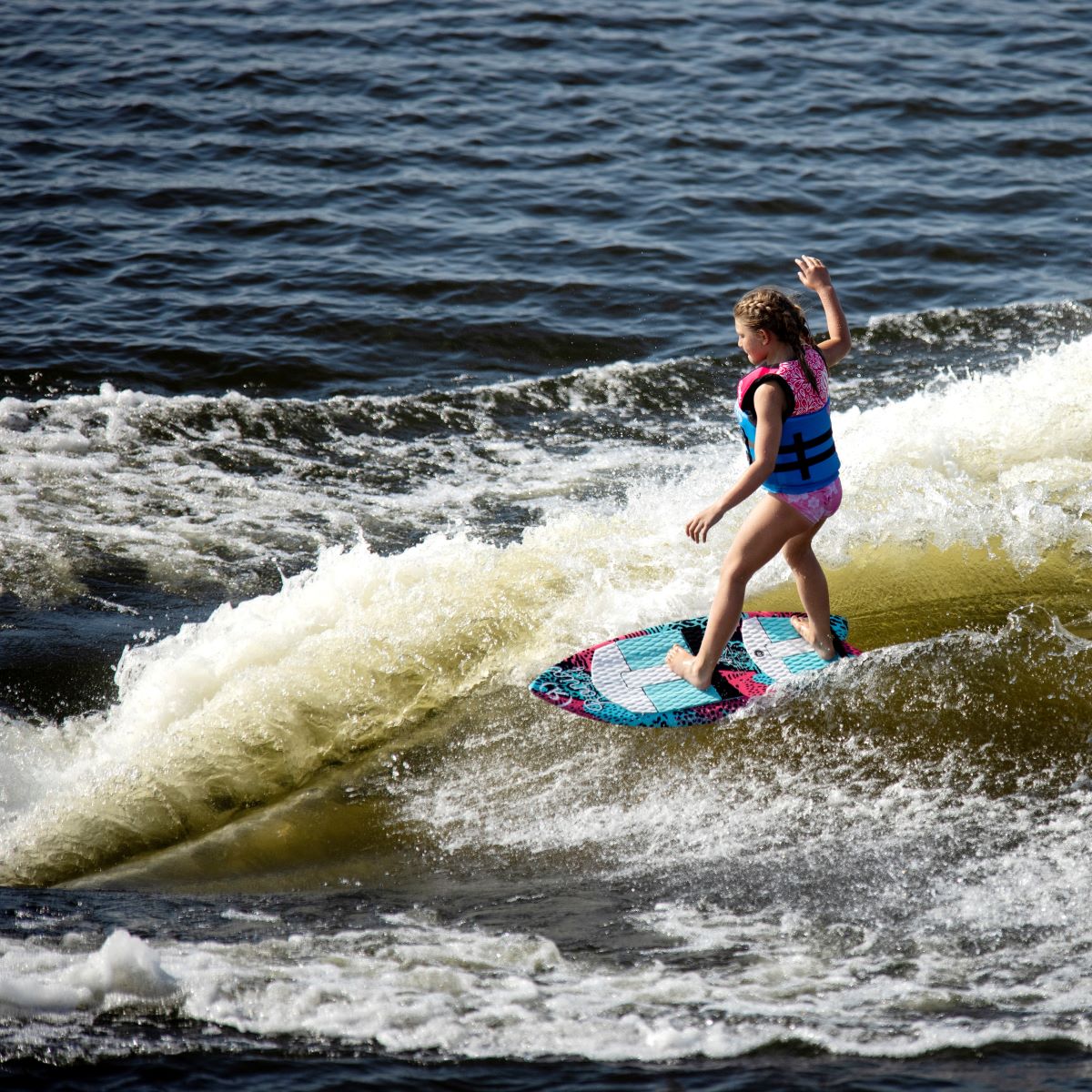 Ronix Girls Super Sonic Space Odyssey Fish Wakesurf Board 2024
In stock
Ronix Wakesurf Board Size Chart | Surf Style
| | | |
| --- | --- | --- |
| Wakesurf Board | Board Length (Ft/In) | Suggest Max Rider Weight (lbs) |
| Flyweight Atlantik | 4'5" | 185 |
| Flyweight Atlantik | 4'7" | 160+ |
| Flyweight Atlantik | 4'9" | 170+ |
| Koal Classic Longboard | 4'10" | 125+ |
| Koal Classic Longboard | 5'4" | 150+ |
| Koal Classic Fish | 4'6" | 175 |
| Koal Classic Fish | 5'0" | 205 |
| Koal Classic Fish | 5'6" | 155+ |
| Women's Koal Classic Fish | 4'5" | 170 |
| Koal Surface Crossover | 4'5" | 205 |
| Koal Surface Crossover | 4'11" | 160+ |
| Marshmellow Thrasher | 4'8" | 175 |
| Marshmellow Thrasher | 5'2" | 160+ |
| Volcom Conductor | 4'3" | 165 |
| Volcom Conductor | 4'7" | 185 |
| Volcom Conductor | 5'0" | 160+ |
| Kids Atlantik | 4'3" | 125 |
| Super Sonic Space Odyssey Boy's Fish | 3'9" | 90 |
| Super Sonic Space Odyssey Girl's Fish | 3'9" | 90 |
| Super Sonic Space Odyssey Kids Powertail | 3'9" | 100 |
Pickup available at Springville
Usually ready in 1 hour
Ronix Girls Super Sonic Space Odyssey Fish Wakesurf Board 2024
3.9
Springville
Pickup available, usually ready in 1 hour
1015 N 2000 W
Springville UT 84663
United States
+13852130452
Embark on a Surfing Adventure with the Ronix Super Sonic Space Odyssey Fish Girls Wakesurf Board
Best for: Young female surf enthusiasts ready to carve their own path on the waves.
Design: A vibrant blend of pink and teal, coupled with a palm tree island graphic, brings a tropical paradise right under her feet.
Fish Profile: This "fun" board, inspired by our best-selling adult Fish shape, is designed to offer young surfers a playful yet controlled surfing experience.
Durable Construction: Leveraging a construction methodology from our top-selling wakeboards, this board promises resilience and a deeper connection to the water, crafted to stand the test of time.
Performance Award Sticker Pack: A set of stickers to reward the milestones achieved, turning every new trick learned into a celebratory moment.
Parents, introduce your young surfer to the vibrant and exciting world of wakesurfing with the Ronix Super Sonic Space Odyssey Fish Girls' Wakesurf Board. This board is more than a piece of equipment; it's a canvas of dreams and a ticket to tropical adventures, designed to fuel her imagination and surfing passion.
The Fish profile, characterized by a deep swallow tail, allows for spontaneous moves on the lip and swift drives, offering a dynamic and playful surfing experience. It's a board that grows with her, encouraging exploration and mastery of new ways to ride with a reliable and responsive design.
To foster a spirit of achievement and joy, the board comes with a performance award sticker pack. It's a delightful way to celebrate her surfing milestones, encouraging a progressive learning path filled with fun and achievements.
Technical Specifications
Riding Level: All Levels - A board that nurtures budding surfing talents, offering a stable and responsive platform for young girls to learn and grow.
Construction: Super Sonic Space Odyssey - Crafted for durability and a deeper connection to the water, this construction promises a safe and enjoyable surfing experience, supporting her as she evolves in her surfing journey.
Thickness: Standard - Designed to offer a balanced and stable ride, helping her to maintain control and build confidence with each wave she conquers.
Rail: Full - A design that ensures stability and ease of control, aiding in a smooth and safe surfing experience, as she learns to master the waves with grace and skill.
Fins: Bottom Mount Fin Attachment with tool included, featuring two 1.5" Alfred symmetrical fins and one 2.3" Alfred symmetrical fin, designed to offer a secure and balanced ride, supporting her in carving her own path on the waves.
| | |
| --- | --- |
| RIDING LEVEL | ALL LEVELS |
| FINS | BOTTOM MOUNT FINS (TOOL INCLUDED) - LEFT/RIGHT: 1.5" - CENTER: 2.3" |
| CONSTRUCTION | SUPER SONIC - Less prone to dings, and more connection to the water |