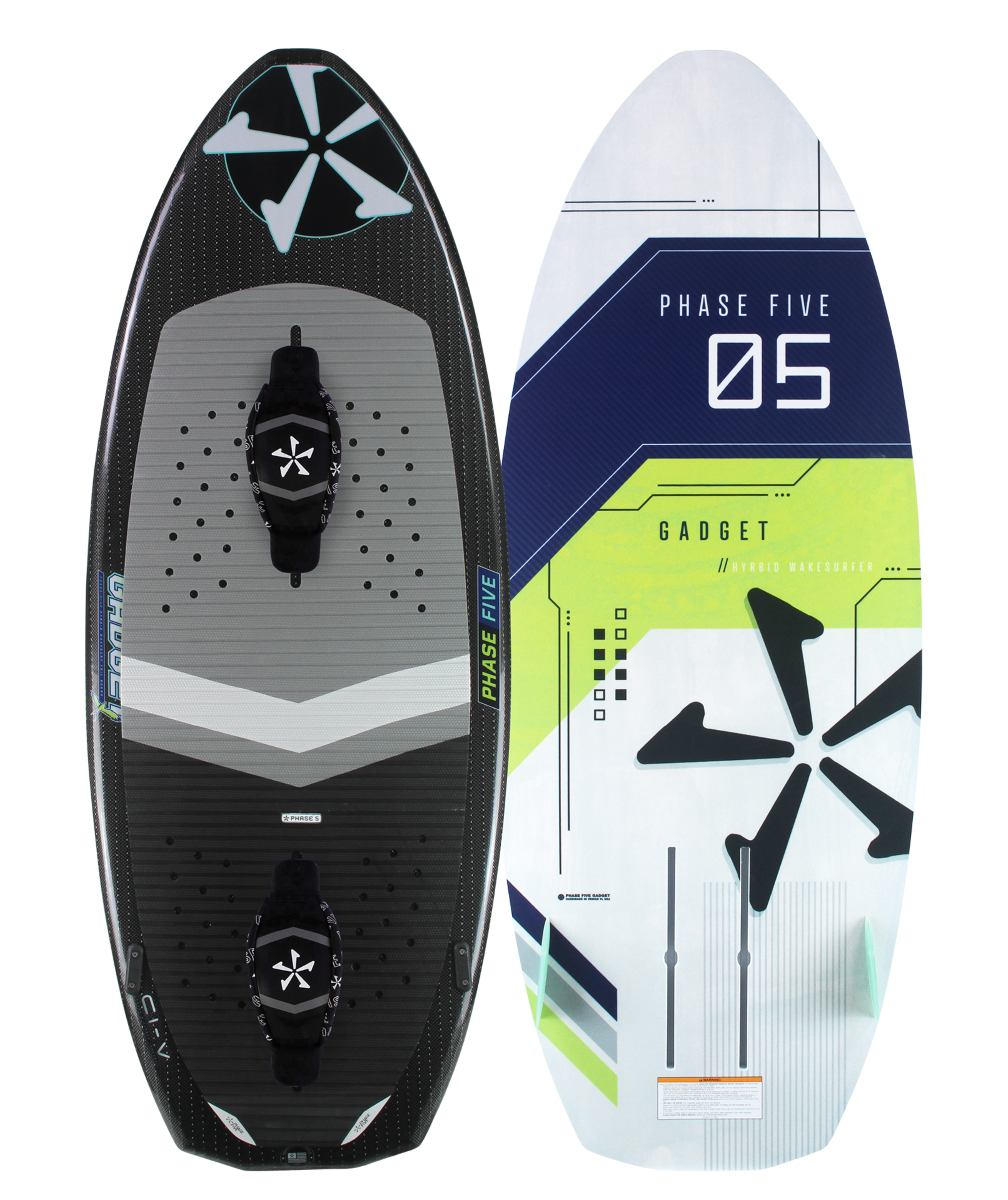 Phase 5 Gadget Wake Foil Package 2022
Pickup currently unavailable at Springville
Phase 5 Gadget Wake Foil Package 2022
54 in
Springville
Pickup currently unavailable
1015 N 2000 W
Springville UT 84663
United States
+13852130452
The Gadget is the first skim style hybrid foil board that Phase Five has designed. The advantages to the Skim Style foil design is that it easier to control the board under your feet when you take off. The Gadget comes equipped with optional foot straps for aggressive riding, or as a training assist for first time foilers. We made sure when designing the Gadget that it was made super strong so that it would be able to handle whatever you are ready to throw at it. The thinner skim style core allows the Gadget to be super maneuverable and nimble feeling to the foil rider. The Gadget utilizes the track mount system on the bottom. This allows experienced foil riders to mount any foil they choose, while being able to micro adjust it for their own setup. Get a taste of flying with the use of a hydrofoil underneath your feet, and reset your mind as to what is possible behind the boat. What is even more neat is that the Gadget can be used as a wakesurfer as well. The board comes with twin fin skim style setup to try out once you're done with your foil session. The Gadget comes in 54" and features a wide outline that will support a wide range of riders. The complete Gadget Board + Foil package comes with the Phase Five Nova Foil. The Phase Five Nova Foil is equipped with a longer 28" mast for more room to fly and pump, something seasoned foilers will appreciate.
The Phase Five Nova Surf Foil Package comes with the larger 760 Front Wing with neoprene covers. The 760 Wing increases overall lift and stability compared to its predecessor. In addition the 760 Front Wing delivers even more side-to-side stability which is essential to making the sport accessible to first time foilers. If you are learning for the first time, we highly recommend picking up a short 18" mast to start out. The short mast will cut the learning curve down in half, and get the rider flying above the water in no time. Once the rider can hover on the short mast steadily, its time to progress to the long 28" mast for the full experience.
The Chip
The Chip is geared for the more advanced foil riders. The smaller size board allows riders to have a faster response over the foil.
The Gadget
A Skim Style hybrid foil board, made to foil and to surf. The Skim style foil is easier to control the board under your feet when you take off.
The Gizmo
A foil-specific machine designed to surf small wakes and waves. The longer-style board is perfect for beginners, allowing for more stability on the board and more control over the response of the foil.
Nova Wing & Mast
Designed to make foiling user-friendly, approachable, and fun in a wide range of wave conditions. The 990 front wing is perfect for bigger, havier riders.