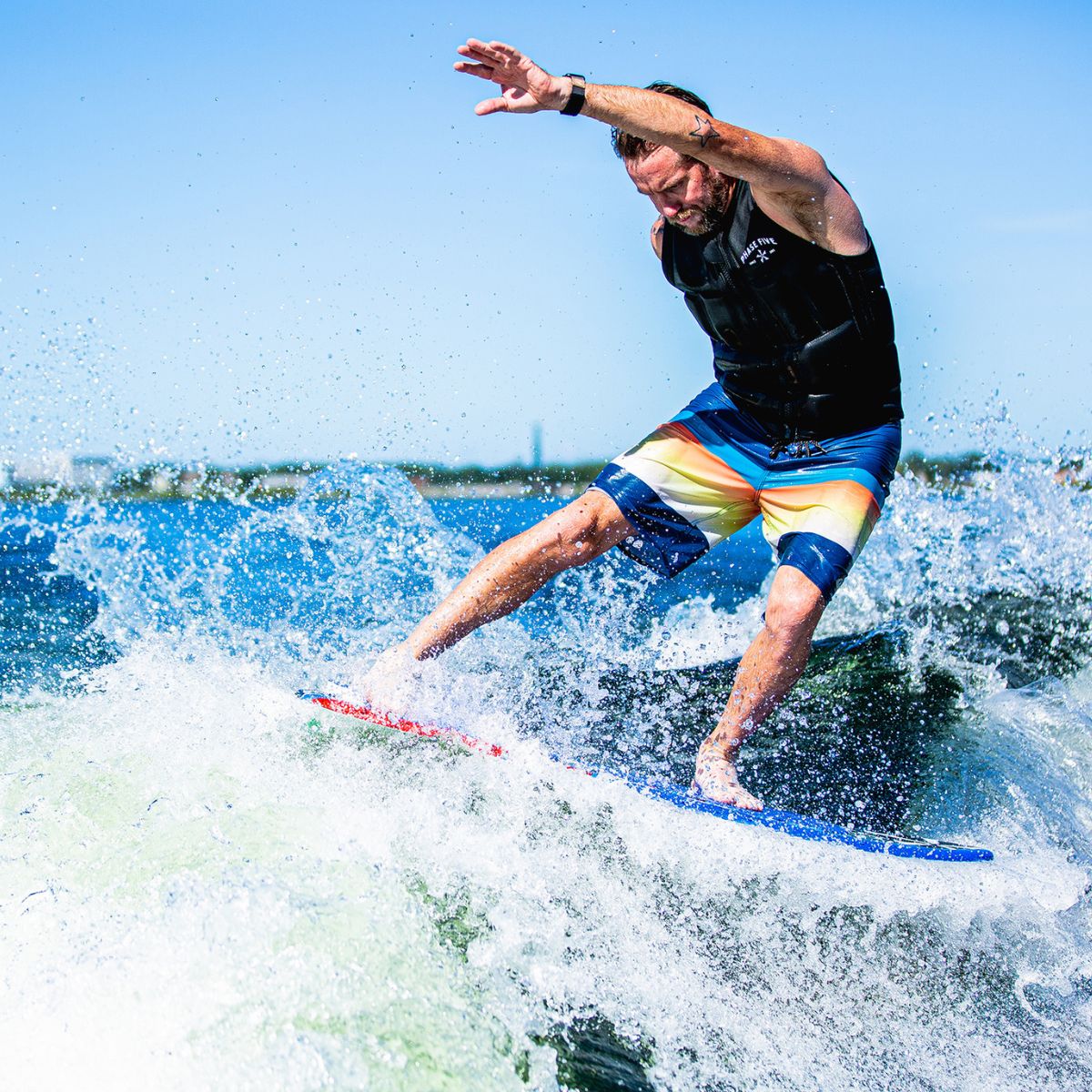 Phase 5 Diamond CL Wakesurf Board 2023 BLEM
Phase 5 Wakesurf Board Size Chart | Skim Style
| | | |
| --- | --- | --- |
| Wakesurf Board | Board Length (in) | Suggested Max Rider Weight (in) |
| Shrimp | 40 | 100 |
| Scamp | 45 | 120 |
| Fish | 47 | 140 |
| Avenger | 48 | 140 |
| Avenger | 51 | 160 |
| Prop | 54 | 190 |
| Oogle | 58 | 235 |
| Ratchet | 54 | 190 |
| Diamond CL | 54 | 200 |
| Diamond CL | 57 | 225 |
| XB | 58 | 250 |
| Hypsta | 50 | 200 |
| Hypsta | 54 | 225 |
| Diamond Luv | 48 | 135 |
| Diamond Luv | 51 | 165 |
| Diamond Turbo | 51 | 170 |
| Diamond Turbo | 54 | 195 |
| Diamond Turbo | 57 | 220 |
| Diamond LTD | 51 | 170 |
| Diamond LTD | 54 | 195 |
| Diamond LTD | 57 | 220 |
| Hammerhead | 50 | 175 |
| Hammerhead | 53 | 200 |
| Hammerhead | 55 | 225 |
| Hammerhead LTD | 50 | 175 |
| Hammerhead LTD | 53 | 200 |
| Hammerhead LTD | 55 | 225 |
| Matrix | 48 | 135 |
| Matrix | 51 | 160 |
| Matrix | 53 | 190 |
| Matrix | 56 | 225 |
| Matrix LTD | 48 | 135 |
| Matrix LTD | 51 | 160 |
| Matrix LTD | 53 | 160 |
| Matrix LTD | 56 | 225 |
| Key | 46 | 130 |
| Key | 50 | 165 |
| Key | 52 | 195 |
| Key | 55 | 230 |
| Model X | 53 | 185 |
| Model X | 57 | 250 |
| Trident | 57 | 250+ |
| MVP | 50 | 170 |
| MVP | 53 | 200 |
| MVP | 56 | 230 |
Pickup available at Springville
Usually ready in 1 hour
Phase 5 Diamond CL Wakesurf Board 2023 BLEM
54 in
Springville
Pickup available, usually ready in 1 hour
1015 N 2000 W
Springville UT 84663
United States
+13852130452
BLEM boards are either floor models or have cosmetic defects that do not impact performance of board. Comes with Fins & Hardware. 
A tried and true shape with great performance
The full tail gives the board more surface area compared to a regular pin tail shape and the end result is a faster board

The full tail gives the board more surface for more pop off the wave

With a pulled in nose you can easily carve up and down the wave effortlessly

Look no further for a pro level shape and performance
Rider Skill:

Board Stability:

Fin Setup:

Design:

Specialty:

Response:

Beginner / Intermediate

Medium

(1) 2" Skim Fin

Affordable Pro Level Shape

Speed and Stability

High

Every Phase 5 Diamond CL is individually custom hand-sprayed with custom colors, graphics, and pads. This means every board is unique and one of a kind. Because of this, the Scamp comes in assorted colors and graphics, the associated image is only an example, the board you get will not be the same as the board in the example image.
Please let us know if you have a color preference and we will ship you a board that has that color on it. This does not mean that the color you select is the only color the board will have on it but it will have your selected color