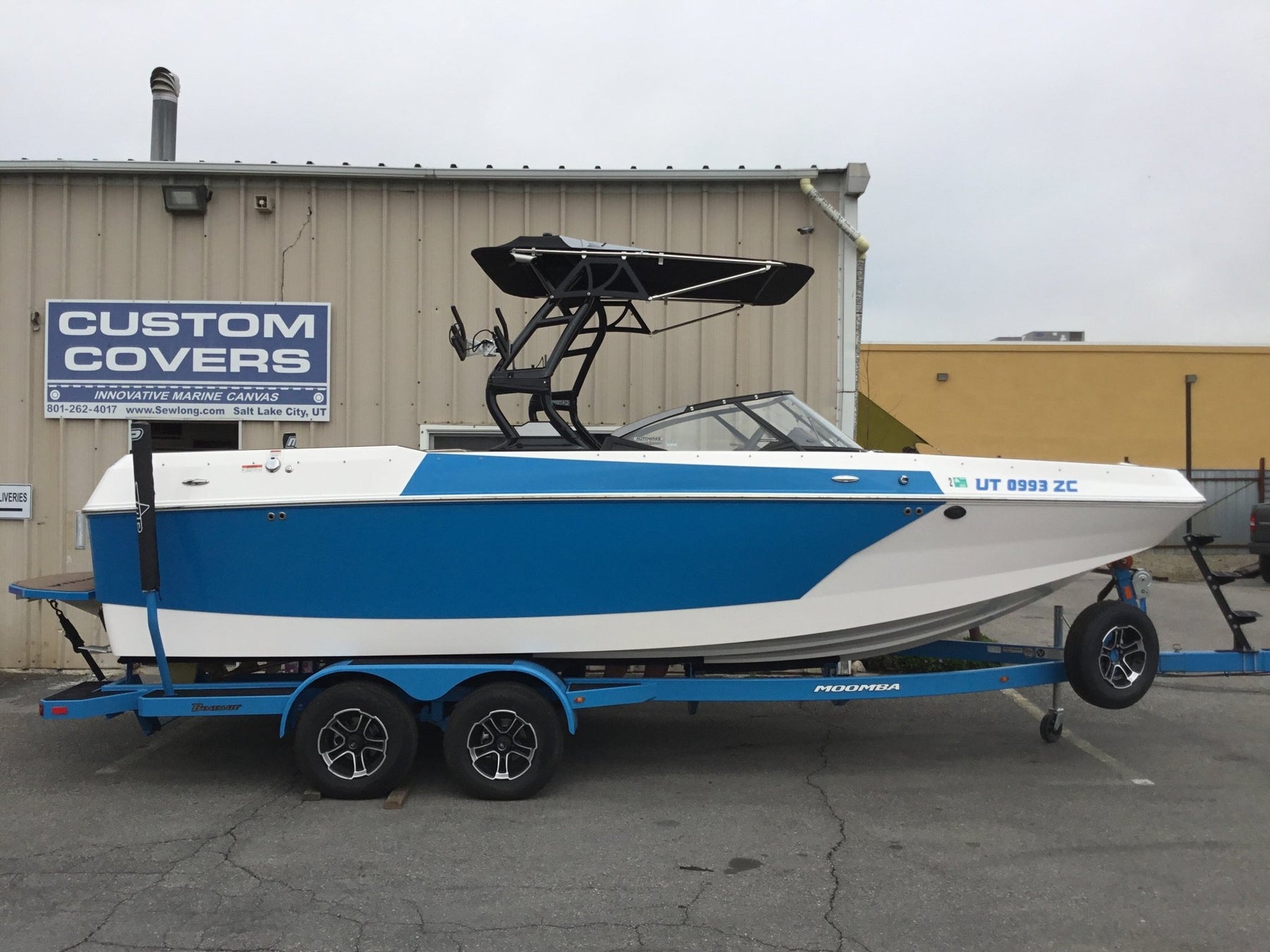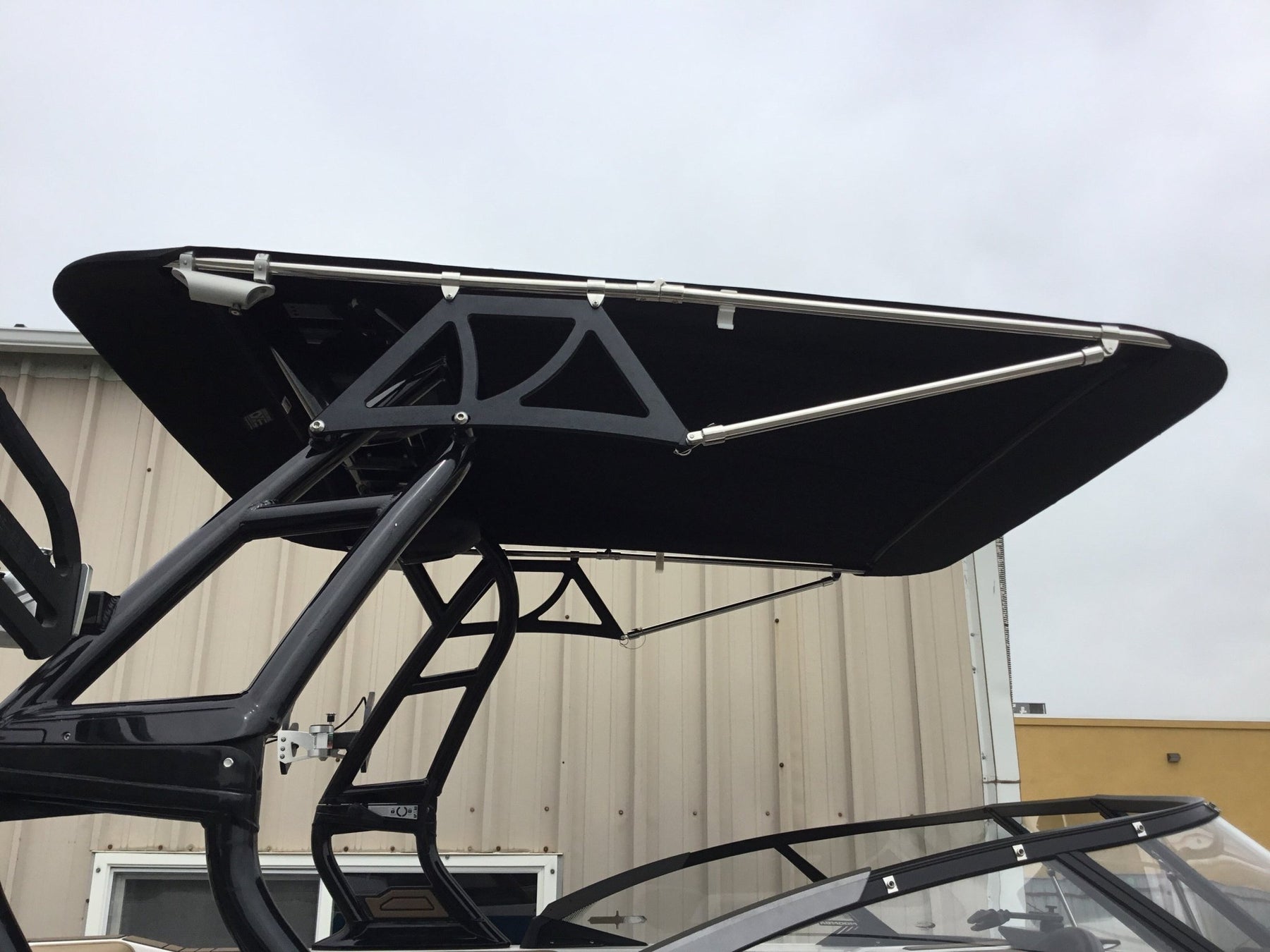 Moomba A3 Folding Canopy Top
Title:
Black w/Silver Surf Pockets
Pickup available at Springville
Usually ready in 1 hour
Moomba A3 Folding Canopy Top
Black w/Silver Surf Pockets
Springville
Pickup available, usually ready in 1 hour
1015 N 2000 W
Springville UT 84663
United States
+13852130452
Enjoy the shade from our award-winning Folding Canopy Top with your Moomba with the A3 tower! It is easy to use and provides great coverage. This top uses FCTv3 mounting hardware to secure the frame specifically to your A3 tower.
Dimensions: 80" L X 73.5" W
*This Folding Canopy Top may fit other models with the same tower. Please contact us to confirm.*
For maximum UV protection, we use premium Sunbrella® fabric, which comes with a limited 10-year warranty, on this Folding Canopy Top. The distinctive silver surf pockets use specialty heat-reflecting Aqualon® fabric, which has a limited 7-year warranty. Our surf pockets are specifically designed to reduce heat and help protect your board against warping in extreme heat.
Custom Colors: While we usually make Folding Canopy Tops in black with silver surf pockets, there are a wide variety of fabrics and colors to choose from. If you'd like a custom color or fabric, please choose the "Custom Color - Made To Order" option in the drop down. Once your order has been processed, a SewLong representative will contact you for personalized help in selecting the right options to meet your needs.
Compatible Boats
2017-Moomba-Craz-A3 (Roswell) 2017-Moomba-Mojo-A3 (Roswell) 2018-Moomba-Mojo-A3 (Roswell) 2018-Moomba-Craz-A3 (Roswell) 2019-Moomba-Craz-A3 (Roswell) 2021-Moomba-Mojo-A3 (Roswell) 2021-Moomba-Kaiyen-A3 (Roswell) 2021-Moomba-Mondo-A3 (Roswell) 2021-Moomba-Craz-A3 (Roswell) 2021-Moomba-Max-A3 (Roswell) 2020-Moomba-Max-A3 (Roswell) 2019-Moomba-Max-A3 (Roswell) 2020-Moomba-Kaiyen-A3 (Roswell) 2022-Moomba-Max-A3 (Roswell) 2022-Moomba-Mojo-A3 (Roswell) 2022-Moomba-Craz-A3 (Roswell) 2022-Moomba-Kaiyen-A3 (Roswell) 2022-Moomba-Mondo-A3 (Roswell) 2020-Moomba-Mojo-A3 (Roswell) 2023-Moomba-Craz-A3 (Roswell) 2019-Moomba-Mojo-A3 (Roswell) 2020-Moomba-HELIX-A3 (Roswell) 2023-Moomba-Mojo-A3 (Roswell) 2024-Moomba-Mondo-A3 (Roswell) 2024-Moomba-Max-A3 (Roswell) 2024-Moomba-Tykon-A3 (Roswell) 2023-Moomba-Kaiyen-A3 (Roswell) 2023-Moomba-Mondo-A3 (Roswell) 2023-moomba-max-A3 (Roswell)
Documentation