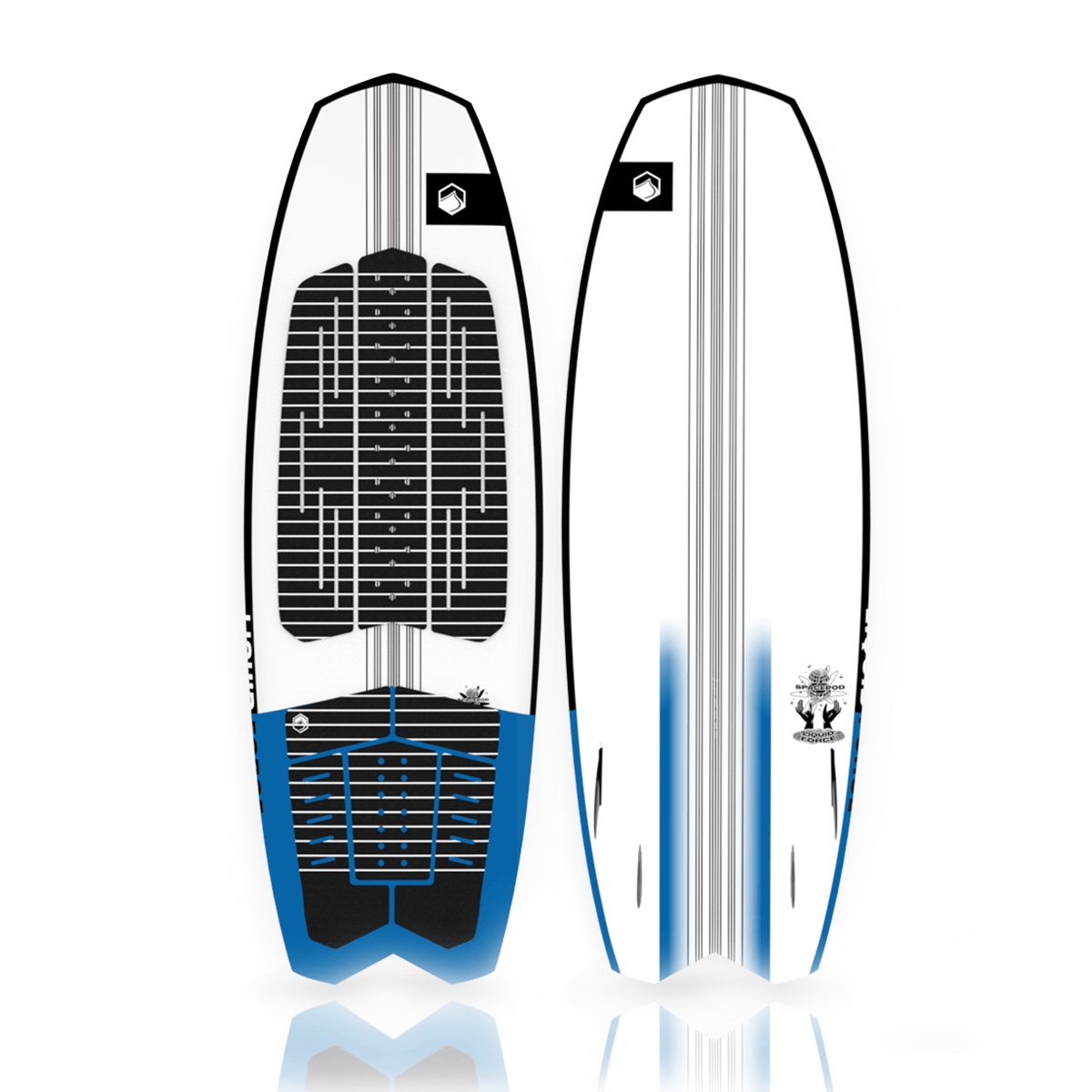 Liquid Force Space Pod Wakesurf Board 2023
Liquid Force Wakesurf Board Size Chart | Surf Style
| | | |
| --- | --- | --- |
| Wakesurf Board | Board Length (Ft/In) | Suggested Max Rider Weight (lbs) |
| Quest | 4'3" | 135 |
| Quest |  4'7" | 150-200 |
| Quest | 4'11" | 190-240 |
| Twinzer | 4'2" | 150 |
| Twinzer | 4'6" | 140-190 |
| Twinzer | 4'10" | 170-220 |
| Space Pod | 4'4" | 170 |
| Space Pod | 4'8" | 150-200 |
| Space Pod | 5'0" | 190-240 |
| Space Pod | 5'2" | 210+ |
| Bonzer Bat | 4'2" | 140 |
| Bonzer Bat | 4'6" | 180 |
| Bonzer Bat | 5'0" | 210 |
| Sting | 4'4" | 100-170 |
| Sting | 4'8" | 150-200 |
| Sting | 5'0" | 190-240+ |
| Pod | 4'0" | 135 |
| Pod | 4'4" | 170 |
| Pod | 4'9" | 150-200 |
| Pod | 5'2" | 190-240 |
| Guapo | 5'2" | 230 |
| Happy Pill | 4'2" | 150 |
| Happy Pill | 4'6" | 120-190 |
| Happy Pill | 4'10" | 170-220 |
| Happy Pill | 5'4" | 190-250+ |
| Rocket | 4'8" | 170 |
| Rocket | 5'0" | 140-200 |
| Rocket | 5'4" | 170-250+ |
Pickup currently unavailable at Springville
Liquid Force Space Pod Wakesurf Board 2023
4.2
Springville
Pickup currently unavailable
1015 N 2000 W
Springville UT 84663
United States
+13852130452
The Space POD is one of the highest performance wake surfboards in the LF line.
EPS Foam Core with Surf Stringer

Carbon/Innegra Reinforced Deck & Carbon Tape Bottom

V-Shape Tail adds volume and increases drive

Carbon quad fin
Sizes: 4'2" (110 - 160 lbs) | 4'6" (130 - 180 lbs) | 4'10" (160 - 210 lbs) | 5'2" (190 - 250 lbs)

The Space Pod features a parallel outline which allows for a narrower board that is quicker and easier to turn. The split tail increases drive and hold and the increased nose and tail rocker add manoeuvrability. Its lightweight EPS stringer core and an exclusive carbon innegra deck with the carbon tape reinforced hull makes this board a light and durable wake bashing machine. Add in the carbon fin quad set up, and you have the ultimate board in the Liquid Force Atomic Series.