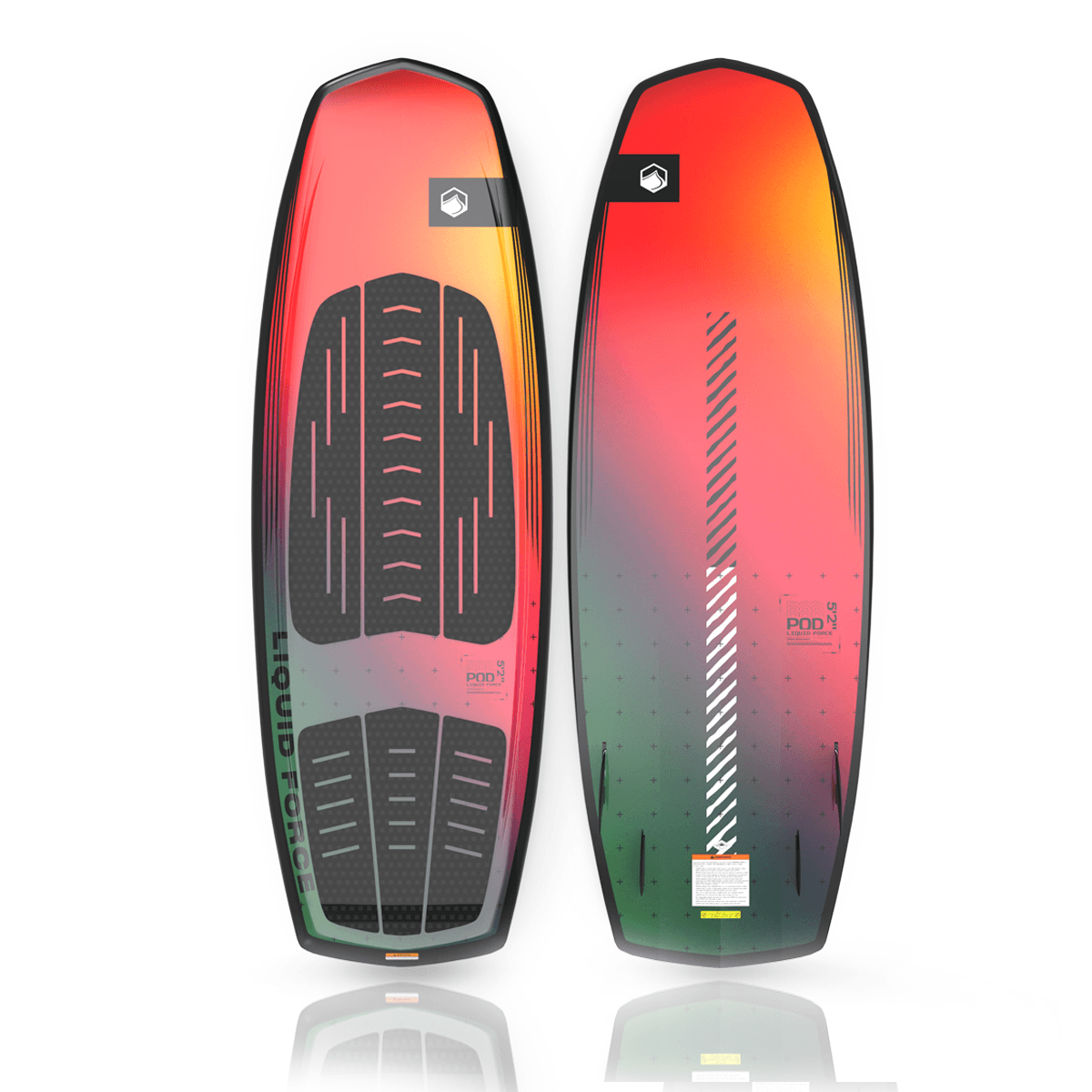 Liquid Force Pod Wakesurf Board 2023
Only 1 unit left
Liquid Force Wakesurf Board Size Chart | Surf Style
| | | |
| --- | --- | --- |
| Wakesurf Board | Board Length (Ft/In) | Suggested Max Rider Weight (lbs) |
| Quest | 4'3" | 135 |
| Quest |  4'7" | 150-200 |
| Quest | 4'11" | 190-240 |
| Twinzer | 4'2" | 150 |
| Twinzer | 4'6" | 140-190 |
| Twinzer | 4'10" | 170-220 |
| Space Pod | 4'4" | 170 |
| Space Pod | 4'8" | 150-200 |
| Space Pod | 5'0" | 190-240 |
| Space Pod | 5'2" | 210+ |
| Bonzer Bat | 4'2" | 140 |
| Bonzer Bat | 4'6" | 180 |
| Bonzer Bat | 5'0" | 210 |
| Sting | 4'4" | 100-170 |
| Sting | 4'8" | 150-200 |
| Sting | 5'0" | 190-240+ |
| Pod | 4'0" | 135 |
| Pod | 4'4" | 170 |
| Pod | 4'9" | 150-200 |
| Pod | 5'2" | 190-240 |
| Guapo | 5'2" | 230 |
| Happy Pill | 4'2" | 150 |
| Happy Pill | 4'6" | 120-190 |
| Happy Pill | 4'10" | 170-220 |
| Happy Pill | 5'4" | 190-250+ |
| Rocket | 4'8" | 170 |
| Rocket | 5'0" | 140-200 |
| Rocket | 5'4" | 170-250+ |
Pickup available at Springville
Usually ready in 1 hour
Liquid Force Pod Wakesurf Board 2023
4.0
Springville
Pickup available, usually ready in 1 hour
1015 N 2000 W
Springville UT 84663
United States
+13852130452
High performance at an affordable price, the POD gives you the best all-around bang for your buck.
Stringerless Foam Core

Square Tail 

Dura-Surf Construction
Quad Fin
Sizes: 4'0" (Up to 135 lbs) | 4'4" (120 - 170 lbs) | 4'9" (140 - 190 lbs) | 5'2" (190 - 240 lbs)

The POD gives you a performance minded board in the most durable construction. The Pod features a progressive outline that gives you a fast, loose, feeling that fits perfectly into the pocket of any wave. The Carbon Honeycomb side fins give you great hold and snappy response in the turn.