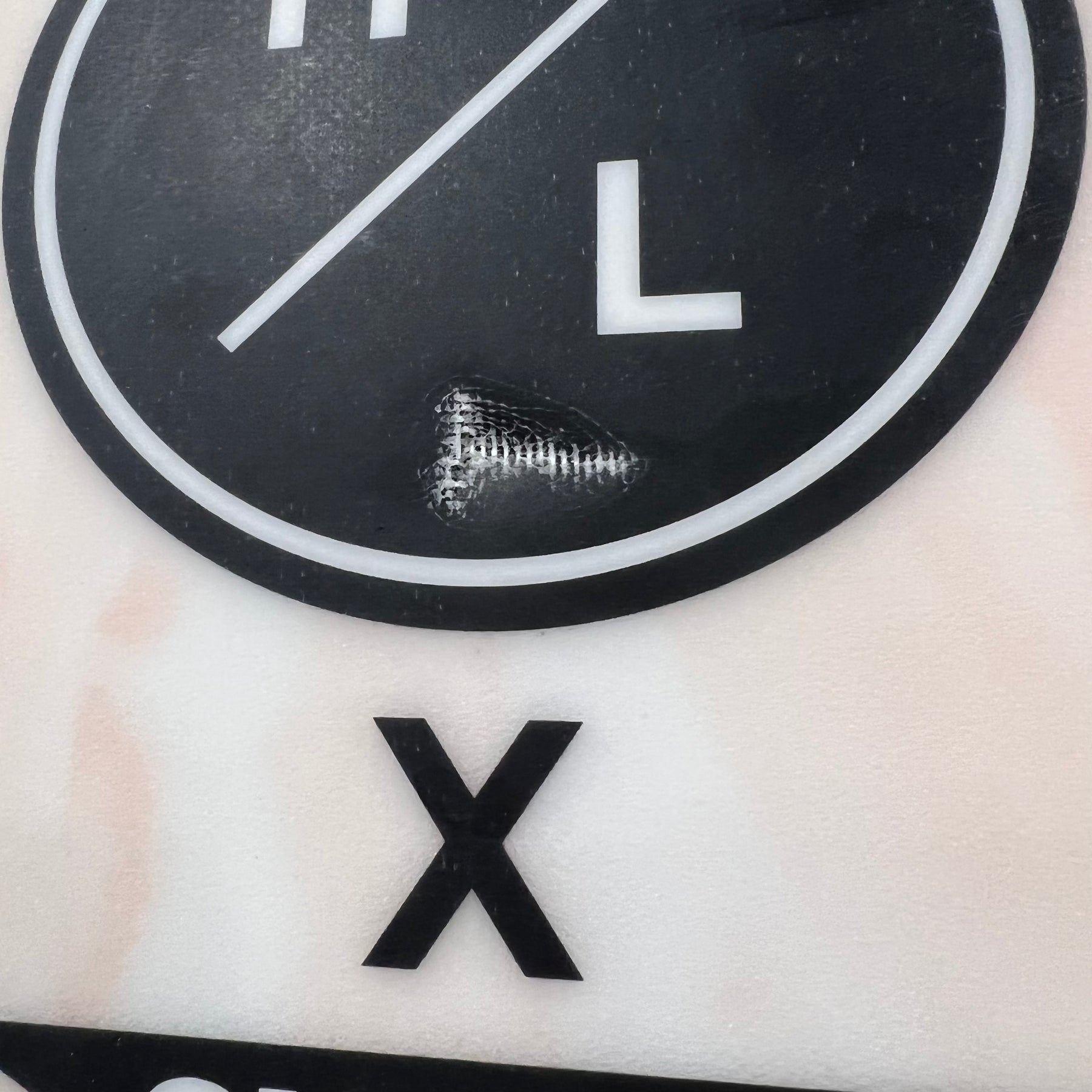 Hyperlite Ocka Wakesurf Board 2021 BLEM
Hyperlite Wakesurf Board Size Chart
| | | |
| --- | --- | --- |
| Wakesurf Board | Board Length (Ft/In) | Suggest Max Rider Weight (lbs) |
| ARC | 4'4" | 160 |
| ARC | 4'8" | 220 |
| ARC | 5'0" | 250 |
| Accelerator | 4'4" | 160 |
| Accelerator | 4'8" | 220 |
| Automatic | 4'7" | 170 |
| Automatic | 5'0" | 230 |
| Broadcast | 4'8" | 190 |
| Broadcast | 5'4" | 250 |
| Buzz | 4'8" | 190 |
| Buzz | 5'2" | 240 |
| Droid | 5'3" | 240 |
| Frother | 4'8" | 220 |
| Frother | 5'0" | 250 |
| Good Daze Jr | 3'9" | 140 |
| Good Daze | 4'7" | 180 |
| Gromcast | 3'9" | 110 |
| Hi-Fi | 53" | 180 |
| Hi-Fi | 56" | 220 |
| Landlock | 5'9" | 300 |
| Ranger | 4'5" | 190 |
| Ranger | 4'10" | 240 |
| Raygun | 4'9" | 165 |
| Raygun | 5'3" | 240 |
| Satellite | 4'5" | 190 |
| Satellite | 5'0" | 275 |
| Shim Jr | 3'9" | 140 |
| Shim | 4'7" | 180 |
| Shim | 5'3" | 240 |
| Speedster | 4'6" | 180 |
| Speedster | 5'2" | 230 |
| Storm | 46" | 130 |
| Storm | 50" | 155 |
| Time Machine | 4'7" | 190 |
| Time Machine | 4'11" | 250 |
| Transistor | 52" | 175 |
| Transistor | 54" | 200 |
| Ute | 4'5" | 190 |
| Ute | 5'0" | 275 |
| Wingman Jr | 3'9" | 175 |
| Wingman | 4'4" | 210 |
| Wingman | 4'8" | 240 |
Pickup currently unavailable at Springville, UT
Hyperlite Ocka Wakesurf Board 2021 BLEM
5'0"
Springville, UT
Pickup currently unavailable
1015 N 2000 W
Springville UT 84663
United States
+13852130452
Demo and floor model products are final sale. There are no returns, refunds, or exchanges on any demo or floor model products. These products have been used or displayed in the BoardCo shop and do not come with any warranty coverage. 
A GREAT NEW SURF INSPIRED SHAPE FROM THE CREW AT SUPER BRAND
The Ocka comes straight out of Hyperlite's collaboration with SuperBrand - one of the most prestigious ocean board shaping companies in the world
Ultra-Fast and Great For Airs
The Ocka features a wide body profile and flat rocker line for maximum speed on the wave that can carry you up into the air
Built with Performance Materials
A blend of EPS, polyurethane, wood, and carbon give this board a great feel, lightweight design and excellent response
Can be run as a quad fin with 2 large fins and 2 smaller ones for more drive and power or a twin with just the two large outside fins for a looser feel and easier spins
Another masterpiece from Hyperlite's collaboration with Australian based SuperBrand. The Ocka, or (äkä) as it's pronounced, is a wide-body wakesurf board capable of massive airs with plenty of foot space on both tail & tip. The ¾" tail rocker maintains speed in the wave and keeps you in the sweet spot with little effort. The Ocka rides with a floaty feeling like no other, making spins and varial tricks easy for all skill levels.
Description: Board has been dinged up on the bottom, and shows some cracks on the tail. These blemishes have been filled and covered with Epoxy Resin and do not affect performance of board. Comes with traction pads shown. Does not include fins.