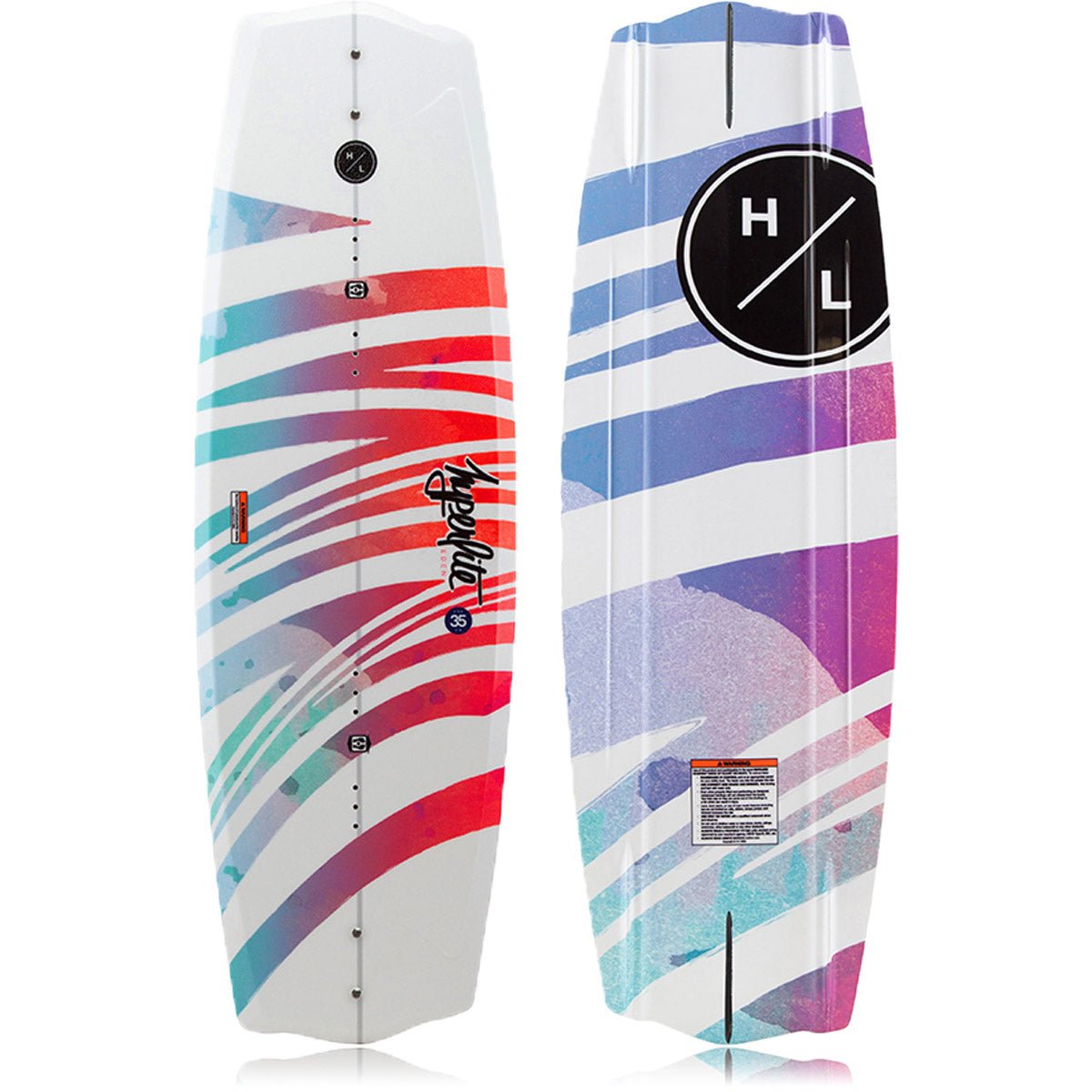 Hyperlite Eden Wakeboard 2021
Hyperlite Wakeboard Size Chart
| | | |
| --- | --- | --- |
| Board | Length (cm) | Rider (lbs) |
| Riot Loaded | 139 | 160+ |
| Riot Loaded | 142 | 160+ |
| Riot Loaded | 145 | 170+ |
| Riot Bio | 138 | 160+ |
| Riot Bio | 141 | 165+ |
| Riot Bio | 144 | 170+ |
| Blueprint Loaded | 143 | 160+ |
| Blueprint Loaded | 147 | 160+ |
| Blueprint | 143 | 160+ |
| Blueprint | 147 | 160+ |
| Source Loaded | 139 | 160+ |
| Source Loaded | 143 | 160+ |
| Source | 139 | 160+ |
| Source | 143 | 160+ |
| Rusty Pro | 140 | 160+ |
| Rusty Pro | 143 | 170+ |
| Rusty Pro | 146 | 170+ |
| Relapse | 136 | 140+ |
| Relapse | 141 | 160+ |
| Murray Pro | 134 | 140+ |
| Murray Pro | 139 | 150+ |
| Murray Pro | 144 | 160+ |
| Murray Pro | 150 | 170+ |
| Cryptic | 134 | 140+ |
| Cryptic | 138 | 160+ |
| Cryptic | 142 | 160+ |
| Cryptic | 146 | 170+ |
| Baseline | 131 | 120+ |
| Baseline | 136 | 140+ |
| Baseline | 141 | 160+ |
| Baseline | 146 | 170+ |
| State | 130 | 115 |
| State | 135 | 140+ |
| State | 140 | 150+ |
| State | 145 | 160+ |
Pickup available at Springville
Usually ready in 1 hour
Hyperlite Eden Wakeboard 2021
130 cm
Springville
Pickup available, usually ready in 1 hour
1015 N 2000 W
Springville UT 84663
United States
+13852130452
The asymmetrical design and women's specific flex make it the perfect choice to advance your skills. 
-Creating a women's shape to take their skills to the next level was the goal behind the new Eden 2.0. Learning from other asymmetrical designs, we found that creating a shorter but more effective edge on a rider's toe-side made hard to learn wake jumps that much easier. This is because there is less rail to initiate when applying toe-side pressure. 
-Once set, the smoother toe-side transition is then held by the Eden 2.0's thinner profile molded-in fin, creating less drag and a better release off the top of the wake. Subtle Toe-Side Footbed Risers were also added to help a rider create more leverage when pressure is applied. 
-The longer, more traditional heel-side edge compliments this asymmetrical design by allowing the natural body position of a rider to generate stability and speed into the wake without a loss of pop due to reduced surface area. 
-The Eden 2.0 has been tested and proven to be the best choice for a rider looking to master the foundations of wakeboarding.
Satin Flex


Tailored specifically to a female rider's needs. A softer glass layup creates a more supple flex and a board built to our top female riders' standards.

Abrupt Continuous Rocker


This rocker line adds a little more kick to the speed that so many riders look for. The Abrupt Continuous rocker line transitions to a slightly exaggerated tip and tail rocker, creating added pop without sacrificing speed into the wake.

Monocoque Construction


Integrating the top glass and the bottom glass into one. Generating a more durable board on side impacts to prevent delamination.

Layered Glass


Our fiberglass is available in 3 weights depending on the board. Over time, traditional woven glass fibers will separate. With layered glass every Hyperlite deck will have the same pop off the double up year after year.

Asymmetrical Design

Molded-in Fins

Molded-In Toe Side Footbed Risers

M6 Inserts