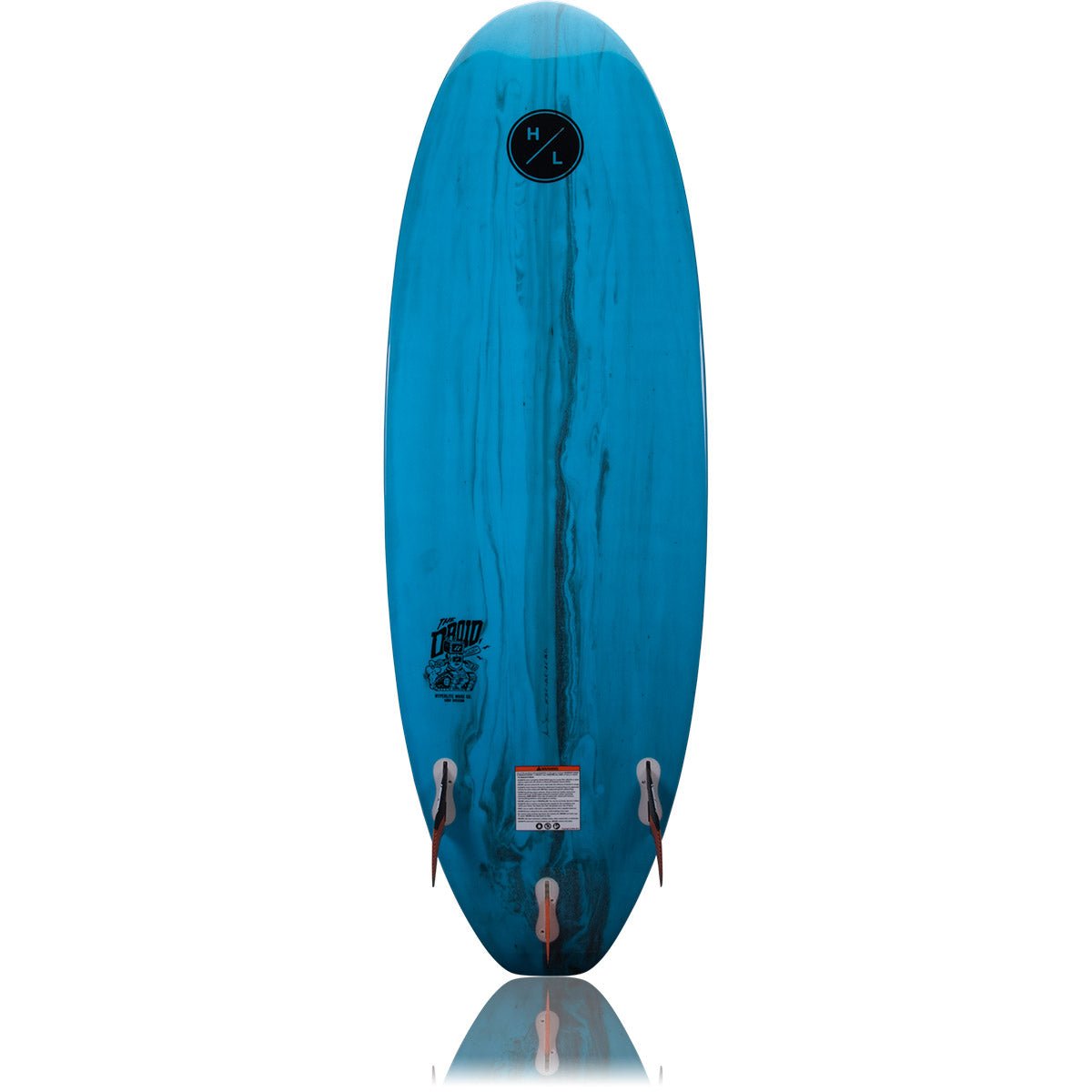 Hyperlite Droid Wakesurf Board 2021
Hyperlite Wakesurf Board Size Chart
| | | |
| --- | --- | --- |
| Wakesurf Board | Board Length (Ft/In) | Suggest Max Rider Weight (lbs) |
| ARC | 4'4" | 160 |
| ARC | 4'8" | 220 |
| ARC | 5'0" | 250 |
| Accelerator | 4'4" | 160 |
| Accelerator | 4'8" | 220 |
| Automatic | 4'7" | 170 |
| Automatic | 5'0" | 230 |
| Broadcast | 4'8" | 190 |
| Broadcast | 5'4" | 250 |
| Buzz | 4'8" | 190 |
| Buzz | 5'2" | 240 |
| Droid | 5'3" | 240 |
| Frother | 4'8" | 220 |
| Frother | 5'0" | 250 |
| Good Daze Jr | 3'9" | 140 |
| Good Daze | 4'7" | 180 |
| Gromcast | 3'9" | 110 |
| Hi-Fi | 53" | 180 |
| Hi-Fi | 56" | 220 |
| Landlock | 5'9" | 300 |
| Ranger | 4'5" | 190 |
| Ranger | 4'10" | 240 |
| Raygun | 4'9" | 165 |
| Raygun | 5'3" | 240 |
| Satellite | 4'5" | 190 |
| Satellite | 5'0" | 275 |
| Shim Jr | 3'9" | 140 |
| Shim | 4'7" | 180 |
| Shim | 5'3" | 240 |
| Speedster | 4'6" | 180 |
| Speedster | 5'2" | 230 |
| Storm | 46" | 130 |
| Storm | 50" | 155 |
| Time Machine | 4'7" | 190 |
| Time Machine | 4'11" | 250 |
| Transistor | 52" | 175 |
| Transistor | 54" | 200 |
| Ute | 4'5" | 190 |
| Ute | 5'0" | 275 |
| Wingman Jr | 3'9" | 175 |
| Wingman | 4'4" | 210 |
| Wingman | 4'8" | 240 |
Pickup currently unavailable at Springville
Hyperlite Droid Wakesurf Board 2021
5'3"
Springville
Pickup currently unavailable
1015 N 2000 W
Springville UT 84663
United States
+13852130452
The Droid is a longboard style surfer for behind the boat. The longboard volume makes this wakesurf board ideal for the larger fellas as increased volume creates lift, speed & push. 
The longboard volume also ensures the Droid will perform well on all wake sizes including the smaller style waves. 
The Droid's tail shape, features and Tri-Fin set up deliver great maneuverability for such a large shape. 
Plant your foot on the tail for ripping turns or center yourself for that classic down the line longboard sensation.