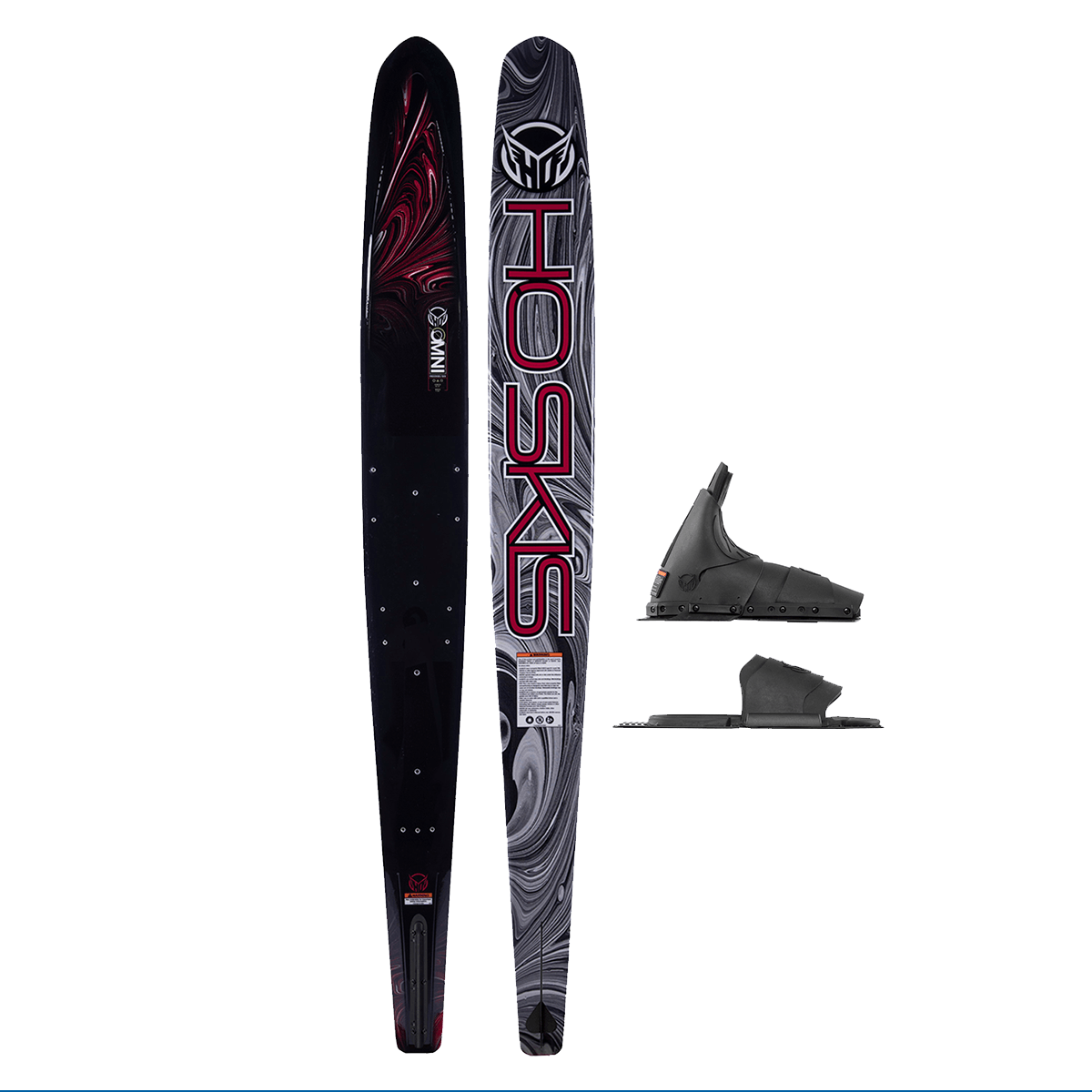 HO WIDE Omni w/Animal RTP 2023
Select Package Options:
67 in / Size 12-13 + RTP
HO Water Ski Size Chart | Freeride Water Skis
| | | |
| --- | --- | --- |
| Water Ski | Length (in) | Rider (lbs) |
| Omni | 65 | Up to 150 |
| Omni | 67 | 150-200 |
| Omni | 69 | 200-250 |
| Omni (Wide) | 67 | 200-250 |
| Omni (Wide) | 69 | 250+ |
| Women's Omni | 63 | Up to 110 |
| Women's Omni | 65 | 110-150 |
| Women's Omni | 67 | 150+ |
| Future Omni | 63 | Up to 110 |
| Future Omni | 65 | 110-150 |
| Hovercraft | 65 | Up to 175 |
| Hovercraft | 67 | 150-225 |
| Hovercraft | 69 | 200+ |
HO WIDE Omni Water Ski
The OMNI waterski is optimized for the skier who needs one ski to do everything. Great behind virtually any watercraft on nearly any waterway, it's wide platform provides easy deep-water starts, smooth-as-butter turns, stable wake crossings and endless fun on the water! Master your skills by progressing quickly with a ski that does it all!
Shape:
The Omni was designed with a Hybrid Waist Width, halfway between those typically found in traditional skis and those in wideride skis. This provides for smooth instinctive turns at a wide range of speeds. It's also offered in a Wide Edition, providing additional lift for easier getups and stable turns. The Omni's Continuous Rockerline executes intuitive turns with no paralleling while the Clean Edge Technology tail reduces drag 50% by allowing water to release cleanly off the bottom of the ski. This differs from conventional edges where water wraps around the bevel, up the sidewall and releases off the upper edge creating suction. The Clean Edge bevel-less tail offered in the Omni designs, Clean Edge 3.0, produces more acceleration with less skier input. In addition, we've enhanced stability by maintaining more bevel between the rear foot and fin. The result is a fast moving highly efficient ski with the handling required for tight line turns.
Construction:
A traditional Fiberglass Polyurethane core creates a stable and damp feel, extremely forgiving in variable water chop and less than ideal conditions. The Omni employs our Switchblade Fin System, with fin settings built into the ski permitting simple fin swapping with no guesswork. The Omni is equipped with the Asher Balance Fin, shaped by Champion waters skier Will Asher. It's reduced fin length provides quick turn rotation combined with a new distribution of surface area for great cross course direction.

Features
• Clean Edge Tail: 50% less drag and more acceleration with less skier input.
• Hybrid Width: Higher turn performance
• Wide Edition Available: Provides lift for easy starts and stable turns
• Traditional Construction: Fiberglass Polyurethane composite structure
• Continuous Rockerline
• Deep Concave
• Switchblade Fin System with Asher Balance Fin
HO Animal Rear Toe Plate
HO enhanced the Rear Toe Plate to include many improvements skiers can see, feel and appreciate out on the water. Rubber is organic. It gives unlimited tactile feedback to all parts of your foot. And it has smooth predictable and progressively increasing rate of stiffness in 360 degrees of motion from center. The Rear Toe Plate is constructed with 100% Natural Thick Rubber. This "Rubber Kicker" provides the support where you need it, with heel flexibility for strong front foot control. The newly located overlay allows for more versatile back foot positions than ever before. Built with a Shaped Orthotic Footbed has contoured arch support to your foots natural arches for comfort and to enhance your natural motion. The rebuildable design allows component part replacement for a long-lasting rear toe loop to get you through many epic seasons of intense use.